Have you been framed yet? 
By Lorrie T. Dunks
I love to see the beauty of the artwork created by the people of this community. Just seeing the lovely pieces presented at the WVAL Community Center Art Gallery proves that. It gives me such satisfaction to be able to help them and be a part of it. It is that reason why it is my desire to help them enhance their artwork by using mats, boarders and many different frames to help present their work in the best way possible. There are certain rules of custom framing which lead to a good design. When followed, these guidelines produce a beautiful, well balanced framing presentation that enhances the work of art without overpowering it.
A good design based on commonly accepted framing principles are one of the many reasons to custom frame your artwork, photos, or anything you plan to frame. A good framer knows how to preserve, protect and produce a wonderful piece of art, regardless of its value,and at a reasonable price. One example is, did you know that the width of the mat border should never match the width of the frame. This tends to draw the eye away from the art they surround rather than drawing your eye in. Or that a poorly placed decorative element, such as a French line, can detract from the beauty of the finished package. Perhaps the best reason of all to custom frame your personal and well-loved works of art is you get that personal touch, you and your framer have to preserve and protect your piece.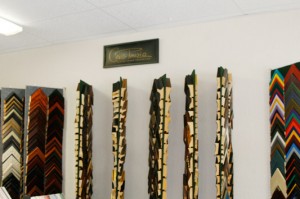 Acid Free mats and mount boards contain no impurities, which protects the art they surround. Special UV filtering glass can be used to protect art from the irreversible damage caused by light exposure, not just sunlight, but also florescent lighting. These are just a few reasons that even if you think that little Susie's finger painting is not worth taking to the framer, it might be well worth your while to have a framer check it out. Signed Lorrie