LT Custom Framing near San Marcos Texas offers a variety of diploma frames and display designs. Let me work with you to design the perfect diploma frame to really show off that achievement.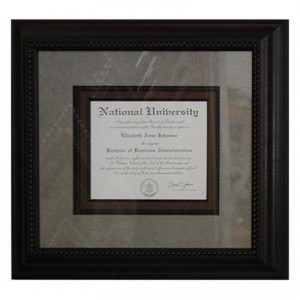 When working with diplomas and other historical paper documents it is critical to remember conservation and preservation techniques. With my archival acid free mat-board and UV protected Tru-Vue glass, I can assure you that diploma or certificate will stay clean and beautiful for generations. It's never to late to bring out that certificate or diploma from storage and have it framed. Once framed you're diploma will proudly stand on the wall garnering the attention you deserve.
To succeed at anything it takes time and effort. Perhaps you have a degree, just got married, had a baby, celebrated an anniversary or received recognition in the workplace. I want to preserve those treasured moments in a beautiful framed setting. At LT Custom Framing a short drive from Austin Texas, I dedicate my time to building frames that work with the art to present it in a beautiful way. I want to make your diploma a commanding display that draws the respect from the dedication you committed to your school or work.
I can help you make the perfect selections for graduation, weddings, photography, birthdays, anniversaries, military, retirements, baby showers, sports, corporate etc…
I carry mat board colors for major local universities such as
Texas A&M University
Texas State University
Texas Tech University
University of Texas
Come see me today, and lets get your diploma out of that folder and on the wall.