Archival Framing
You might ask, what is conservation picture framing? It is simply framing that uses materials that have been proven to protect and maintain art in as close to its
original condition as possible. At LT Custom Framing located Southwest of Austin, Lorrie recommends the use of conservation techniques on every piece of art. It is an important form of insurance for your priceless artwork. Many an artist have said, "If it's worth framing, it's worth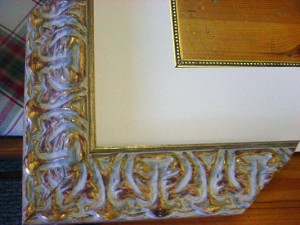 protecting."
There are several major parts that make up a good frame. These include
Glazing (glass)
Matboards
Backing Material
Frame
It's also important to using archival mounting techniques to protect the artwork. Wherever you go to get your artwork framed, always specify acid free matboards and backing products. Cheap pulp-based products contain acid and lignin which will destroy the artwork over time.
The type of Glass is also a critical choice when framing with conservation in mind. A UV protected artwork will survive much longer. Sunlight, and specifically Ultraviolet (UV) will damage photographs, paint, and pretty much any paper art form. The usual signs are yellowing of paper, brittleness in canvas, and micro-cracks and fading in paintings. Once started, these effects are cumulative and irreversible. The only way to preserve your art is to protect it from UV light with UV glass. Many people love the protecting UV glass provides but dislike the reflection from light sources. LT Custom Framing carries Tru-Vue Museum Glass just for this purpose. See the difference museum glass makes for your priceless art today. I have sample glass for demonstration purposes.
While some work like magazine cutouts, posters, certain photographs and newspaper clippings will sometimes require a mounting technique called wet mounting/dry mounting; you should never use this on valuable or sentimental art pieces. Wet and or Dry Mounting will destroy the value of the art! At LT Custom Framing I will purposely try and steer you clear of wet/dry mounting as these techniques are not archival and will destroy your artwork. Museum or conservation mounting employs the use of Japanese hinges or archival photo corners, which allows the art to expand and contract with heat and humidity changes.
Why employ the services of a custom framer? Simply put it comes down to expertise. We have the knowledge and ability to select the right framing materials for your project. A good framer is easy to find in Austin, San Marcos, or San Antonio. A GREAT framer will help you with all of the decisions that go into properly framing your artwork. Why take your art to someone that will treat you and your work like a number. I will treat you and your art with the respect you deserve. With years of experience conservation framing and design I use a variety of up-to-date materials and methods. I am dedicated to providing beautiful custom designs and great service to you.